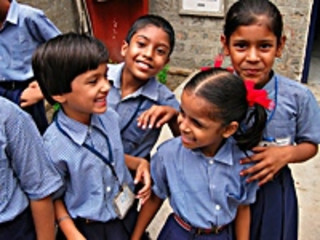 In the developing world, less than 10% children with disabilities are given the opportunity to attend school. Amar Jyoti, a SeeYourImpact partner pioneers in inclusive education where able bodied and disabled children are coupled together and receive education in equal numbers. Under the motto "Education for All," Amar Jyoti provides integrated education to children from diverse backgrounds and abilities, paving the way for an equal and inclusive society.
Your generous donation of $240 will ensure that a child who cannot afford quality education is given a fair chance to a brighter future through academics, vocational training, sports and cultural activities. Just $240 will provide a year of tuition for a poor child and create a new, more hopeful future.
See the impact of your donation on the actual recipient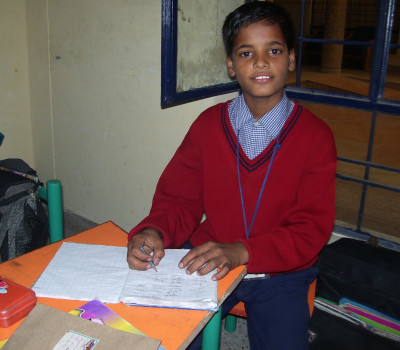 Ron and Marilyn view profile

Ron and Marilyn
gave a year of tuition
Kamruddin practices writing at Amar Jyoti School
Kamruddin is an 11 year old boy studying in the Hearing Impaired section at Amar Jyoti School. He is performing at 1st grade level in academics. He has been coming to Amar Jyoti School since March 3, 2008. He is a pleasant child and is punctual in coming to school. ...
read more

Drew
and 11 others gave a month of tuition
Arti, the talented dancer

UBS
gave a year of tuition
Sanjana is equal to her peers

Dhwani
and 8 others gave a month of tuition
Vineet's fees have been paid, allowing him to study two languages
Lael and Ray view profile

Lael and Ray
and 7 others gave a month of tuition
Deepti cannot hear, but she can draw!
Manju Kumari wants to be a singer!

David
and 10 others gave a month of tuition
Abhishek concentrates on his studies

Josh
gave a year of tuition
Gaurav's academics and social skills are improving!

Amit
and gave a donation toward a year of tuition
Saloni is active and succeeding
Farooq has made great progress!

Saravan
and 8 others gave a month of tuition
Kalpana has a smile for everyone
Tell us why you this cause!